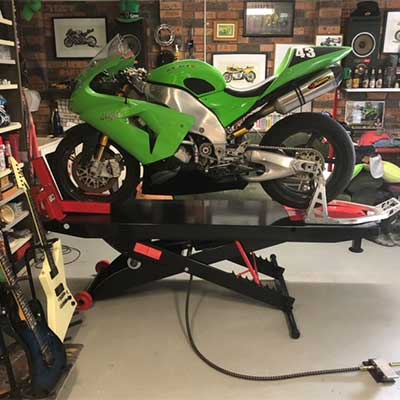 A quick note to let you know that I'm absolutely delighted with my new air lift. I bought it based on a recommendation from a friend, and he certainly didn't let me down – very happy with the build quality and ease of set-up / use, thanks again for the help from you and your good wife in getting it to me.
Best wishes, Brian
January 2022
Morning Ian, thanks for your time yesterday, got the lifter table home safely and set up last night. Like most petrol heads I have a lot of equipment in the shed manufactured in China and realise everything is built to a price, however I was pleasantly surprised at the build quality, materiel thickness and welding on the lifter and am very happy with my purchase. Obviously you have chosen the products you put your name against wisely.
Cheers, Paul
August 2020
Hi Ian, I just wanted to drop you a quick note to say thanks for sending the replacement foot valve piston through. I replaced it on the weekend and the valve is working perfectly again. Your outstanding service backs up my decision to tell anyone who will listen how good the bike lift is and they should buy one from you!!!
Thanks, Jamie
October 2019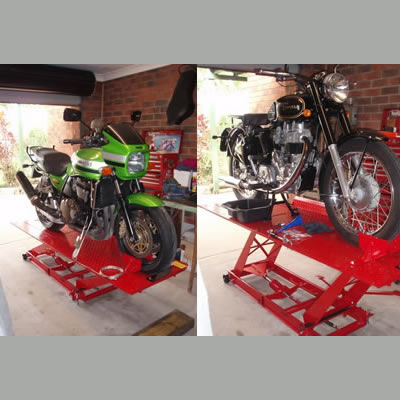 G'Day Ian,
As promised find attached pictures of my toys on my new "Bike Lifter"! Many thanks for your help in a prompt, hassle free delivery. I would recommend the "Bike Lifter" to every motorcycle enthusiast for cleaning and general maintenance, to full workshop capabilities!
Again, many thanks!
Mick
Hi Ian, The Bike Lifter arrived safe and sound and is now assembled in my shed. Very impressed with the service, price and end product. Thanks very much. Geoff.
Hi Ian, I received the Cruiser Lifter from IPEC last night. I assembled the lifter in about 15 mins and have already used it to replace the rear drive sprocket. It works really well. Thanks for your prompt and wonderful service.
Cheers, Marcel.
Hi Ian, I received the Jack on Friday morning with a copy of the invoice attached. Used the jack over the weekend and found it perfect for the application.
Thanks, Adam.